Texas Artisan Showcase
Thursday, June 24th, 2010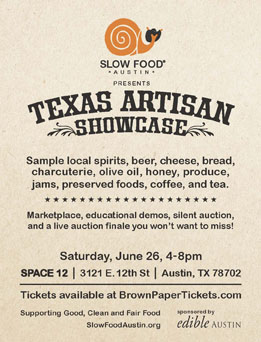 Texas Artisan Showcase
presented by Slow Food Austin
June 26 :: Saturday :: 4-8pm
Take part in this delicious revolution while sampling palate pleasing artisan foods that are all "good, clean and fair." Enjoy what makes our state taste great: from beers and breads, cheese and charcuterie, to coffee and tea! This family-friendly event will feature live music, a marketplace, silent auction, educational producer demos and a live auction finale by Dai Due Butcher Shop's Jesse Griffiths you won't want to miss!
For $60 ($55 for Slow Food members), you'll get to enjoy 12 tasting stations, plus 6 more chances to revisit your favorites! Each station will serve a small "flight" of samples. Budget-conscious Slow Foodies have the option of a 12-punch ticket for $40 ($35 for Slow Food members).
For more details and to purchase tickets, click here.